Welcome
The results are in! Log in to your coordinator account to download the results and certificates for your students. Go to "Export files" to find the downloads for your school. Students can log back in to review the tasks and their answers and see the feedback for each task. The results for the reloaded challenge have the same name as those for the official first round.
Due to COVID-19 we are unsure whether we will be able to host a second round this year. We are trying very hard to make it happen and we will let you know when we have more information.
Are you a teacher and would you like your students to participate in our next US Bebras Challenge in november, 2021? Register here!
The USA Bebras Challenges tests your logic and computational skills through different types of fun and challenging problems.

During the official Bebras Challenge, the problems come in three levels of difficulty: A, B and C.
The "A"-level problems are intended to be easier than the "B"-level problems, which are intended to be easier than the "C"-level problems.
You can find a problem's difficulty in the problem overview before you click on it. The difficulty of a problem determines how it will be scored. The scoring rules are as follows:
| Difficulty | Correct | Incorrect | Unanswered |
| --- | --- | --- | --- |
| A | +6 points | -2 points | 0 points |
| B | +9 points | -3 points | 0 points |
| C | +12 points | -4 points | 0 points |

Bebras: A Field Trip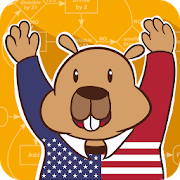 Need some more problems to solve? 10-18 years old? Why not wander through Bebravia and solve another 100 computational thinking problems.
Get the Bebras App for just 99¢ (All proceeds go to support Bebras USA.)