Welcome

Welcome to the Bebras challenge!


It's almost time for summer break and that means our team is busy preparing for the Bebras challenge 21-22, held the 8th to 21th of November.
Are you a teacher and do you want to join the challenge with your students? Sign up as a coordinator through the red button below! Once you're a registered coordinator, you will receive an email when student registration is open.
The USA Bebras Challenges tests your logic and computational skills through different types of fun and challenging problems.

During the official Bebras Challenge, the problems come in three levels of difficulty: A, B and C.
The "A"-level problems are intended to be easier than the "B"-level problems, which are intended to be easier than the "C"-level problems.
You can find a problem's difficulty in the problem overview before you click on it. The difficulty of a problem determines how it will be scored. The scoring rules are as follows:
| Difficulty | Correct | Incorrect | Unanswered |
| --- | --- | --- | --- |
| A | +6 points | -2 points | 0 points |
| B | +9 points | -3 points | 0 points |
| C | +12 points | -4 points | 0 points |

Bebras: A Field Trip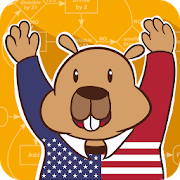 Need some more problems to solve? 10-18 years old? Why not wander through Bebravia and solve another 100 computational thinking problems.
Get the Bebras App for just 99¢ (All proceeds go to support Bebras USA.)